Investment grant for large companies
The tender started in the middle of 2016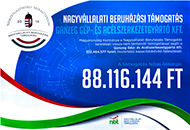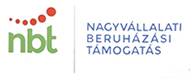 We applied on 22 July 2016, to be precise.
Within the framework of the then 15-billion-HUF investment grant programme for large enterprises, a non-repayable grant of HUF 88 million was symbolically handed over to the zalaegerszeger Ganz Holding company by the Minister of Economy, Mihály Varga.
At the press conference following the factory tour, the minister explained that Ganzeg Gép- és Acélszerkezetgyártó Kft. will use the HUF 88 million grant for a HUF 350 million capacity expansion and plans to hire at least 16 new employees.
Analysing the situation in Zala, the politician noted that the indicators for the district are extremely positive, better than the national average. In the last six years, the number of employed people has increased by 9.1 %, which has reduced the unemployment rate in Zala from 12.1 % to 3.4 %.
The project ended on 15 May 2017.
Also through this tender we got the opportunity to participate in the project again this year.